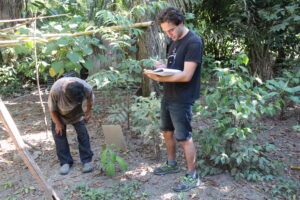 In January, A Rocha Peru was excited to receive a new volunteer, Chris Rampersad, a Biologist from the United Kingdom. Chris stayed for three months working on several project activities for the La Libertad Dry Forest Project. He talked with locals about the effects of climate change on the dry forest and also helped the team monitor research plots installed in ACP-Cañoncillo to assess the biomass and necromass of the dry forest. One of his findings was an increase in the height of the trees, with an average growth rate of 2.56m since 2018.
In addition, Chris started his research in Tronco Prieto and ACP-Cañoncillo forests collecting data such as species richness, the abundance of each species, and the amount of felled and dry trees. Chris completed his investigation of pre-existing species in the area, conducting two interviews at the Raimondi Museum and the Trujillo Herbarium.
Afterward, Chris journeyed to our Amazon Natural and Cultural Heritage Pilot Project in Monte Carmelo in the Urubamba River basin. Chris has been helping the team take pictures and support the research into the community's medicinal knowledge of plants, endangered birds, amongst other things.